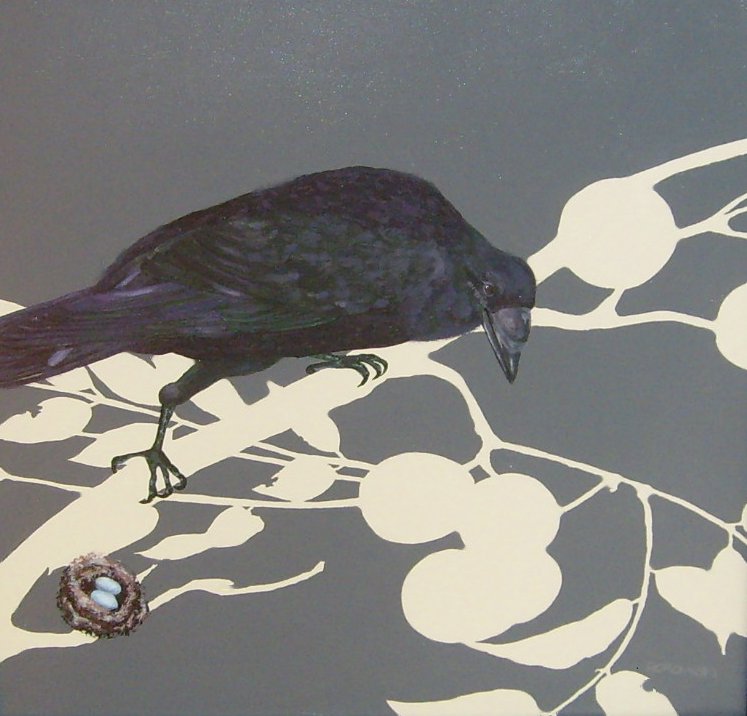 Raven and Hummingbird Nest 2008, private collection
Chinese Hummingbird 2009, private collection
Missing 2012, private collection
Nalesniki and Nest, 2014 private collection
Wishful Thinking
Echolalia
Above or Below, 2016
Ambelopoulia 2016
Dream of the Buck 2018
Perched on Golden DNA 2016
Lasso the Moon, private collection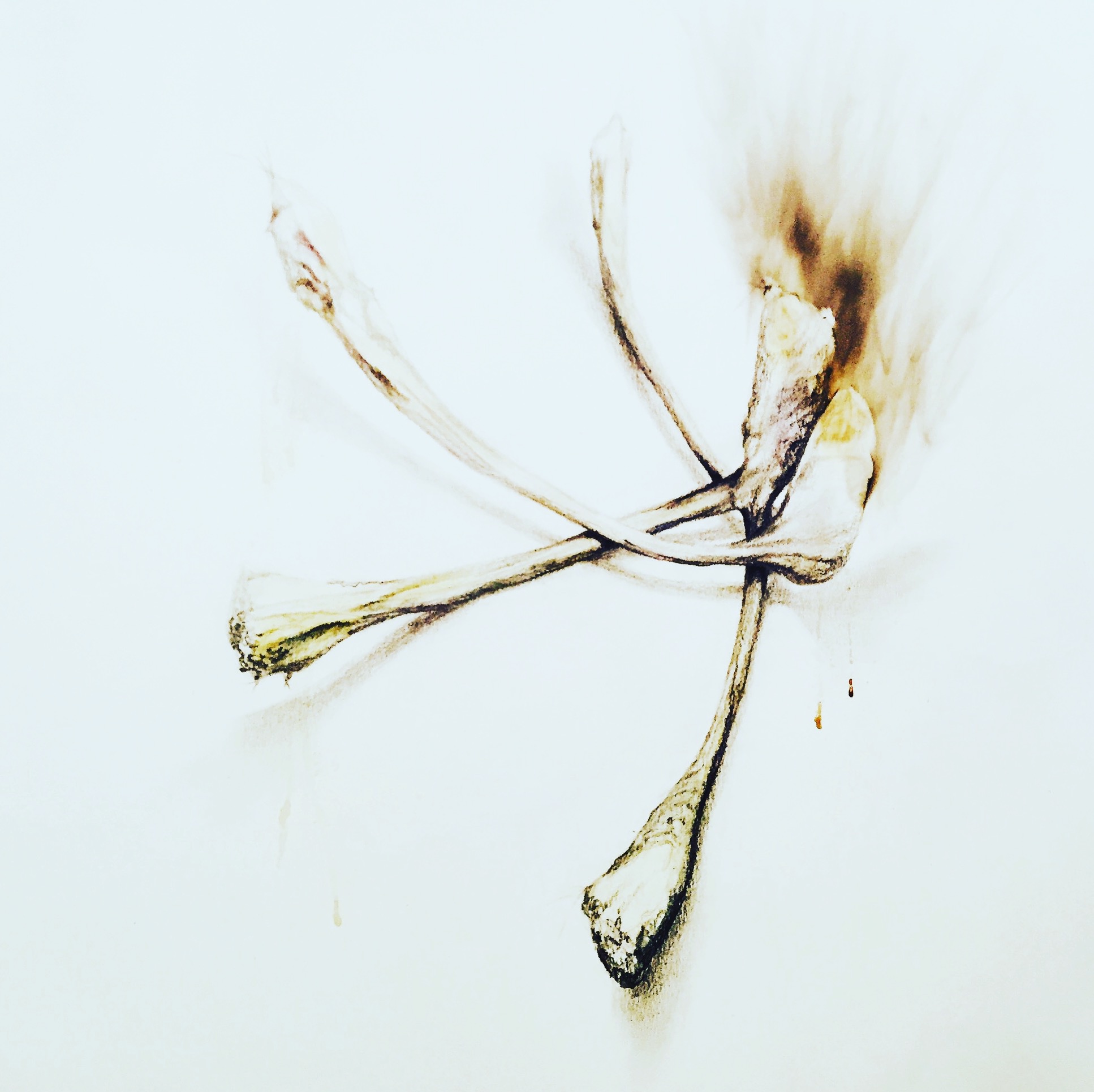 Burning Wishes 2018
Anna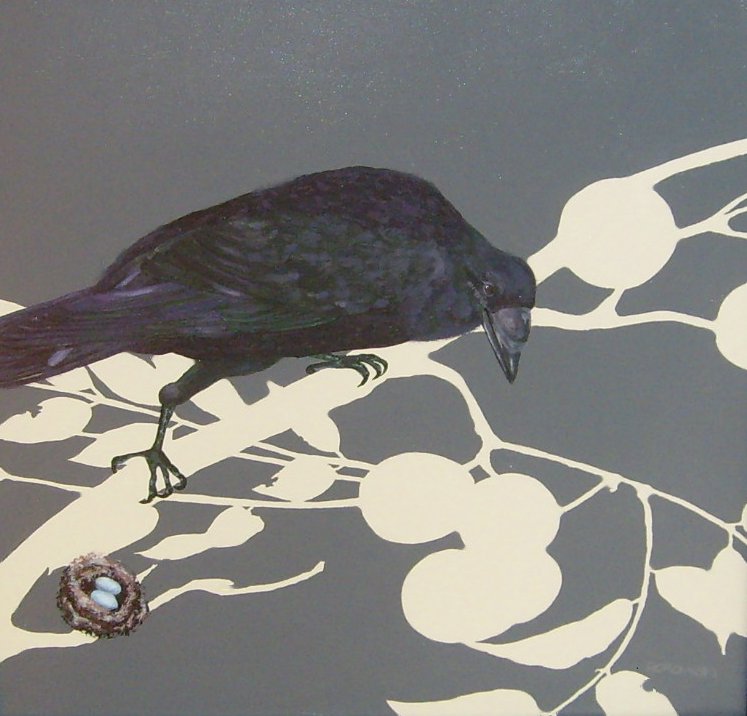 Raven and Hummingbird Nest 2008, private collection
The Raven appears to look down ominously on the Hummingbird nest. But the eggs are safe and the Raven is simply passing by.
Chinese Hummingbird 2009, private collection
The Ruby Throated Hummingbird was inspired by our visiting exchange student from Taiwan. Ruby was gentle and kind, but tenacious and brilliant. We loved her fleeting company.
Missing 2012, private collection
Cut along the dotted lines to remove one lover from this combination…and they will be missed. We have all experienced loss and love, and this painting holds that moment with mixed emotions.
Nalesniki and Nest, 2014 private collection
Two hungry little ones chirp and wait for the treats about to be delivered. The script in the sky belongs to my grandmother. It is her recipe for a Polish treat called Nalesniki.
Wishful Thinking
Four wishes go up in flames and reveal my portrait in the smoke, trimmed with gold.mixed media on papers, 2018, 12x17"
Echolalia
The Mockingbird symbolizes my students who are identified as having the characteristics of Echolalia. While they are processing information, they simply repeat what I am saying. Like a song bird. But this repetition is important, even golden in their learning methods.As most peers and adults do not understand this, the branch of the golden bird is fragile, on fire, uncertain.mixed media on paper, 2017, 18x24"
Above or Below, 2016
Gold leaf, graphite and smoke all help to create the space for this fish to navigate. Is he flying or submerged?
Ambelopoulia 2016
Having been born with a sweet tune is the downfall for the sweet song bird.
Dream of the Buck 2018
This washy background shows the dream of the buck
Perched on Golden DNA 2016
The Nightingale is gifted with a desirable talent and tune.
Lasso the Moon, private collection
Pyrography burns up the moon that serves as the buoy for this lost sparrow.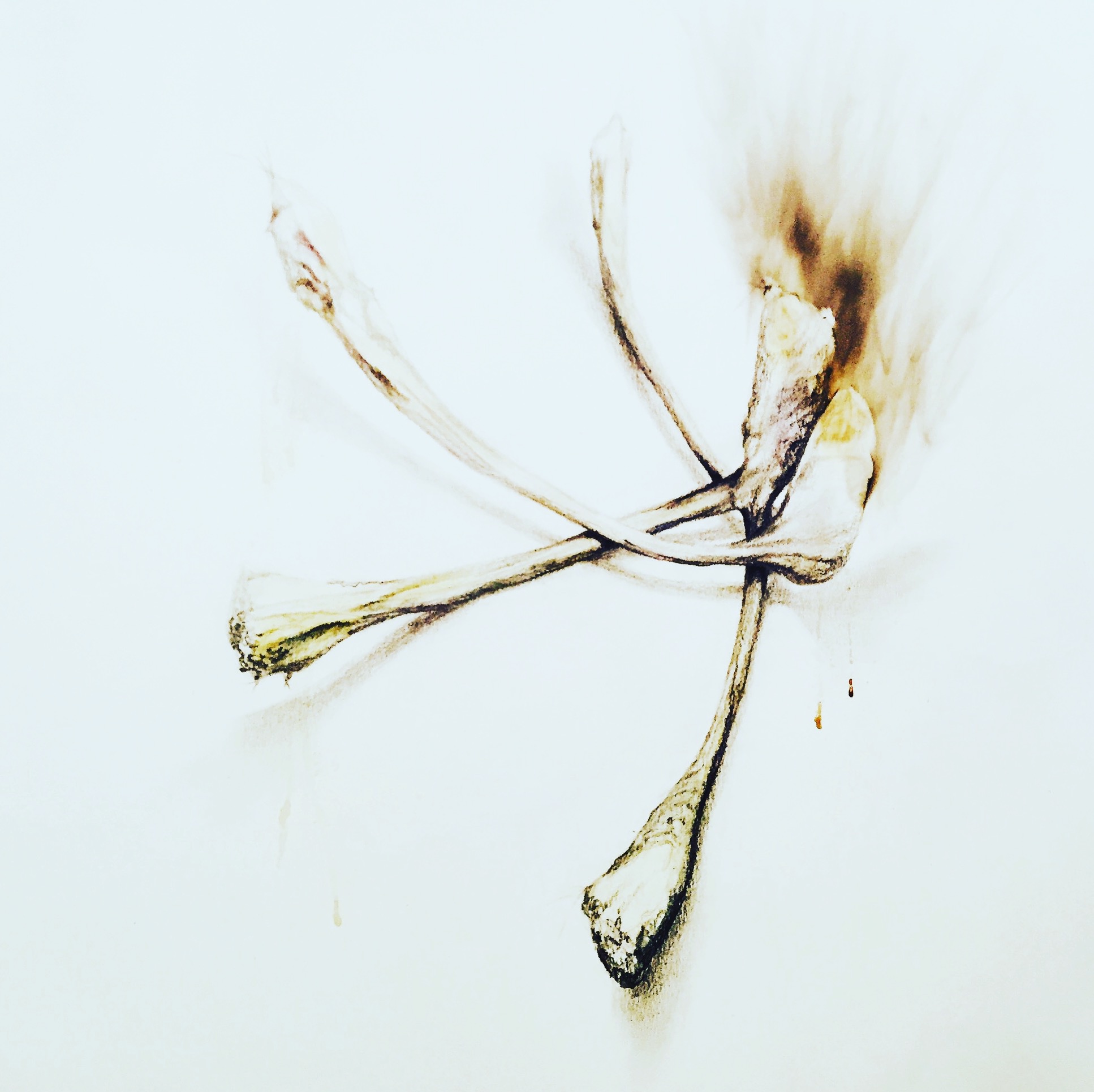 Burning Wishes 2018
An intimate view of two wishes, made with graphite, watercolor and smoke
Anna
Anna's portrait is safe under the protection of the Owl's wing along with the Thistles and Peony.
1
2
3
4
5
6
7
8
9
10
11
12
13
·
·
·
·
·
·
·
·
·
·
·
·
·